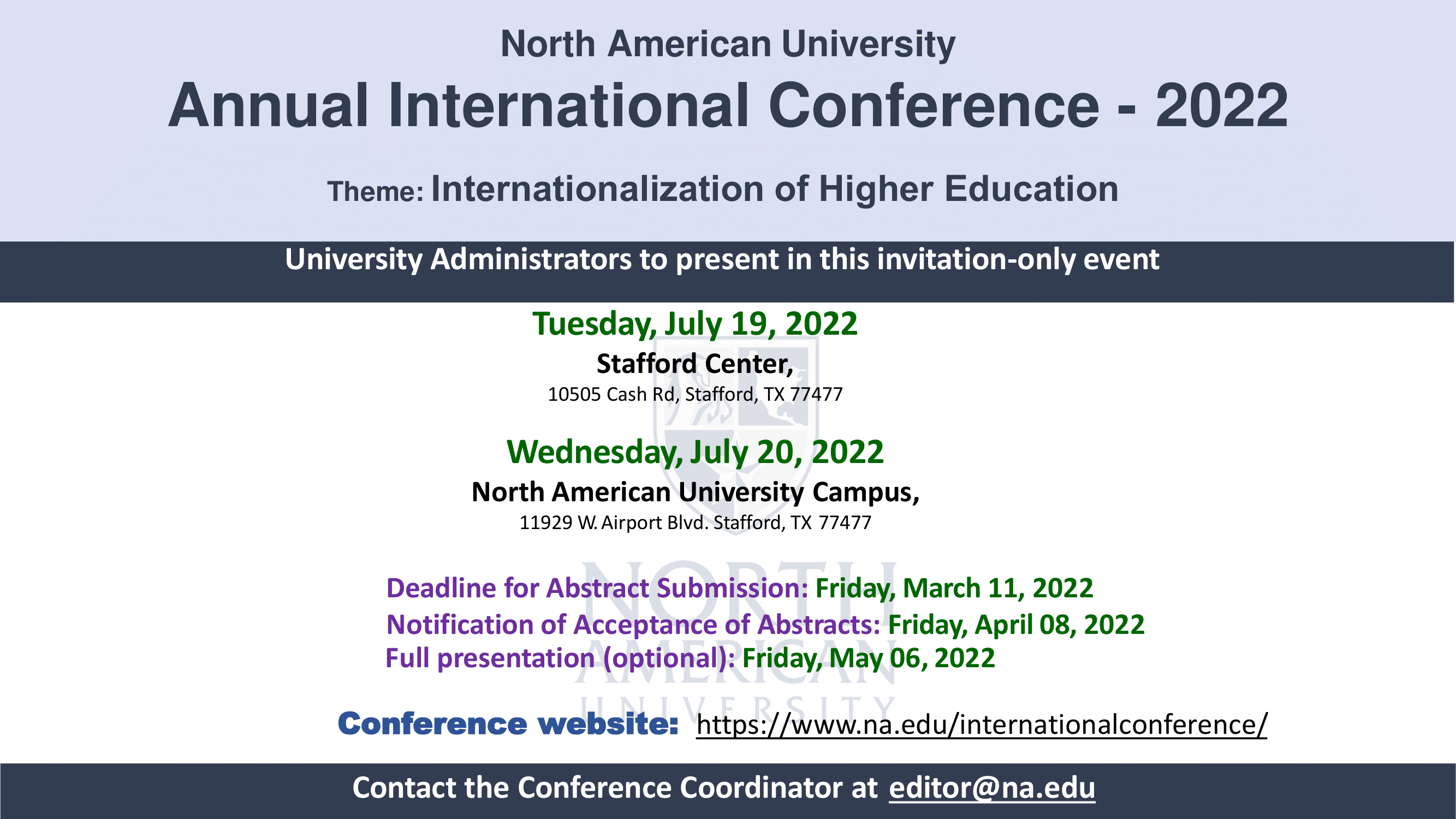 Annual International Conference – 2022
North American University (NAU) will host its 2nd Annual International conference with the theme of Internationalization of Higher Education during July 19-20, 2022 (Tuesday-Wednesday) at Stafford Center (10505 Cash Rd, Stafford, TX 77477, USA) and NAU (11929 W Airport Blvd, Houston, Texas 77477, USA). This conference will be educational in nature and is going to be an invitation only event where University Administrators like Presidents, Provosts and VPs will present their ideas on the theme of the conference. The aim of the conference is to gain insights into the need, preparedness and trends in Internationalization of higher education and help broadening the academic experiences that might help augment academic programs, research and scholarly collaboration, sharing and learning from cross-border experiences and so forth.
Sub-themes of the conference are:
Preparedness for internationalization in higher education: structural, functional, administrative, academic, socio-cultural, etc.
Emerging ethical issues in higher education
Lessons learned during the pandemic that encouraged internationalization of higher education
Innovative solutions in times of uncertainty in the context of Internationalization ofHigher Education
Moving ahead to the "New Normalcy"
This two-day conference will have several presentations, scholarly discussions, and networking opportunities. It will also be broadcasted live from the NAU's website to benefit the audiences around the world that would not be able to attend the conference in person. The official language of the Conference is English.
Founded in 2010, North American University (NAU) is one of the newest universities located in Stafford, Texas, near the diverse metropolitan city of Houston which is full of opportunities. NAU is a private, non-profit and accredited institution offering bachelor's and master's degrees and is committed to teaching excellence and student centeredness. NAU strives to provide an environment promoting global cultural competency, personal growth and responsible citizenship. Talented faculty and staff at NAU compose a dedicated team committed to the mission of the University and the diversity of the university's faculty, staff, and students influences its strength, productivity, and intellectual personality. NAU's student body comes from across the United States of America and around the world.
Contact the Conference Coordinator at editor@na.edu
Annual International Conference – 2021
Future of Higher Education in an Online Environment
North American University (NAU) hosted its first Annual International Conference on its campus in Stafford, Texas, USA on Tuesday, July 20, 2021. It was also broadcasted live from the NAU's website to benefit the audiences that were not able to attend the conference in person due to the pandemic situation. Having a theme of Future of Higher Education in an Online Environment, this international conference was aimed to share experiences, learn about how higher education in different countries has been transforming and what is perceived as a future of higher education in an online environment. It was educational in nature. The audience for this conference was vast and encompassed participation from across the globe and engaged university administrators, scholars, educators, professionals, and interested community members from eleven countries: Argentina, Brazil, El Salvador, India, Indonesia, Iraq, Jordan, Kyrgyzstan, Pakistan, Tunisia, and the USA. Total 55 people participated, out of which 44 were in person and 11 were online participants. The event was viewed 290 times on YouTube by August 2, 2021. It was indeed a unique and fruitful learning experience for all involved.
This one-day conference had three sessions. All ten presenters (3 face-to-face and 7 online) and four closing remarks (3 face-to-face and 1 online) were enlightening and provided very helpful and productive information. The first session had opening remarks by the NAU President Prof. Dr. Serif Ali Tekalan, which was followed by a keynote from Prof. Dr. Mohammed Taleb Obaidat, President of Jadara University, Jordan, on Future of Higher Education in Jordan. The other three presentations in this session were:
Growth Hacking in Higher Ed in Emerging Technologies by Mr. Prasad Mavuduri, CEO, University of Emerging Technologies, CA, USA
Why Higher Education Still Needs Offline Learning While Doing Online Learning: Sociological Reflection by Prof. Dr. Amany Lubis, Rector, Syarif Hidayatullah State IslamicUniversity, Jakarta, Indonesia
Online Teaching and Learning in Higher Education During the Coronavirus Pandemic: Administrators' Perspective by Prof. Dr. Sanzharbek Erdolatov, Rector, Ala-Too International University, Kyrgyz
The second session took place after a short break and had five presentations. They were:
Online Learning and Teaching Approaches During the Coronavirus Pandemic by Dr. Safa Fennia, Mr. Gailen Ben Marzouk, and Prof. Dr. Jihed Majdoub which was presented by Dr. Safa Fennia of It Business School, Nabeul, Tunisia
Online Teaching and the Economics of Knowledge and Wisdom by Prof. Dr. Farhat Nasreen, Professor of History in the Department of History and Culture, Jamia Millia Islamia, New Delhi, India
Future of Higher Education in an Online Environment by Prof. Dr. Rossana Valéria de Souza e Silva, International Cooperation Group of Brazilian Universities-GCUB, Unversity of Brazilia, Brazil
Managing Higher Education Under Pandemic: El Salvador's Experience by Dr. Nadia Menjívar Moran, General Director of the Graduate School, Universidad Evangelica de El Salvador (UEES)
Internationalization of Higher Education: Virtual Mobilities & Challenges on a Digital Transformation Moment by Mr. Luis Ernesto Franchi and Mr. Ezequiel Mateo Martinich, which was presented by Mr. Franchi, Rector, Universidad de la Marina Mercante, Argentina and Mr. Martinich, Secretary of Institutional Relations, Universidad Abierta Interamericana, Argentina
Just before lunch, North American University signed an MOU with Jadara University, Jordan. The postlunch third session concluded the event with closing remarks offered by eminent personalities. They were:
Future of Higher Education in an Online Environment by Hon. Dr. Teta V. Banks, Director, University Advancement and Development, North American University, TX, USA
Future of Higher Education in an Online Environment by Prof. Dr. Mosleh Duhoky, President, University of Duhok, Iraq
COVID-19: A Disruptive Game Changer for Online Learning by Prof. Dr. Javaid Laghari, Former Chairperson of the Higher Education Commission (HEC) of Pakistan
Education | The Greatest Gift by Ramiz Tafilaj, Albanian-American businessman, philanthropist, activist, and publisher