MBA Admissions Criteria
The Office of MBA admissions at North American University admits students based on 4 criteria; Educational Background, Academic Competency, Professional Competency, and Language Competency. Applicants are neither accepted nor rejected based on any single one of these criteria. Rather, NAU considers the entire application package and encourages applicants to provide additional documents that may support their application package. Below is detailed information regarding admission requirements. Please contact the Business Administration Department if you have any questions regarding our MBA admissions. Documents listed with a bullet point are required documents.
1
Application Documents
As part of the standard application procedure, all students are required to submit
a completed application form

Pay application fee ($50 for residents and $60 for international students) refundable up to 3 days.
Application is through NAU website and payments can be made using the online portal.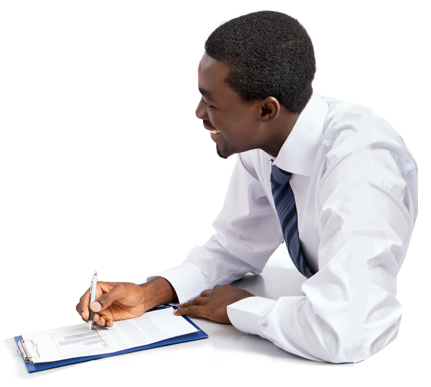 Educational Background
Students are required to provide official transcripts of all academic work completed at the baccalaureate / undergraduate level and beyond. The required document to show educational background is
Official undergraduate transcript showing date of conferral
Students who apply during their senior year must submit their official transcript with date of conferral before the start date of the program. Non-US transcripts must be evaluated by an accredited evaluation agency.
Academic Competency
Successful applicants shall provide evidence of academic competency to benefit from the MBA program and successfully complete it. Applicants shall provide a high enough undergraduate cumulative GPA that show their academic strength. In addition to GPA, Applicants are encouraged, while not required, to provide supporting documents. The admission committee considers relevant work experience (2 years or more) as substantial applied experience that will allow the applicant relate both the MBA core curriculum and the focus coursework. The committee reviews all supporting documents. GRE or GMAT is not required for admission.
Professional Competency
Applicants are required to express a clear intent to get an MBA degree and a career plan that shows the relevancy and the importance of the MBA degree to their plan. Required documents are
Letter of intent
Curriculum Vitae
Two letters of recommendation.
Language Competency (For international Applicants)
Applicants are required to show proficiency in English Language as MBA curriculum involves both oral and written reports, presentations and requires frequent professional correspondence. To show language proficiency, international applicants are required to submit
A minimum of TOEFL Score: 79 or equivalent (paper based-550, CBT-213, IELTS 6)
Applicants who score 61 to 78 in TOEFL (or equivalent) may be accepted on the condition to take 2 remedial courses in English and pass those courses successfully. Applicants who score 60 or below (or Equivalent) must attend North American University Intensive English Program Level 6 and successfully complete that level. Those students who complete NAU Intensive English Program Level 6 may still be required to take remedial courses in English.
TOEFL score requirement could be waived if the applicant provides evidence of 2 or more years of relevant work experience that requires high level communication skills. The relevancy of the work experience and the determination of the language proficiency based on the entire application package are solely at the discretion of the mba admissions committee.