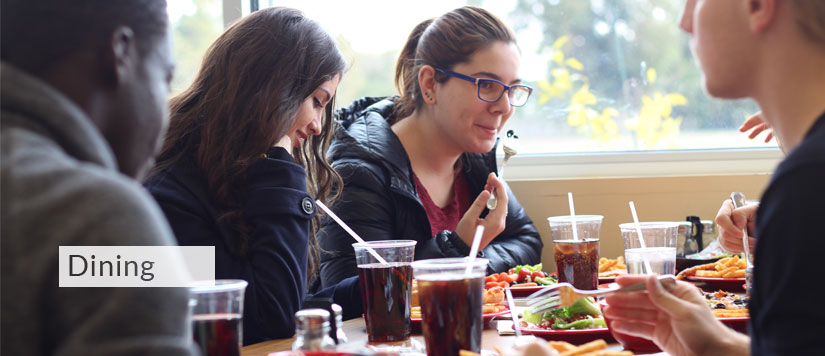 Dining at NAU
The Dining Services of North American University has worked hard to design a dining program guaranteed to meet your individual needs. You have got plenty on your mind: classes, sports, clubs, community service etc, so we have made it our goal to make sure that you won't have to worry about finding something great to eat when you want it. Let us know what we can do to make it even better! We want North American University to have the best dining service there is, and with your help we can do it!
We look forward to serving you!
Please forward all enquiries and suggestions to dining@na.edu
NAU Meal Plan Form
IEP Meal Plan Form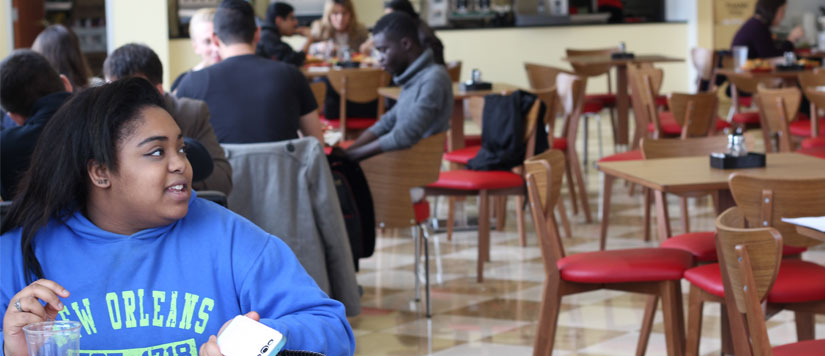 Meal Plan for NAU Students
FALL Semester | August 22 – January 1
19 meals / week
$ 2,200
10 meals / week
$ 1,600
SPRING Semester | January 5 – May 20
19 meals / week
$ 2,200
10 meals / week
$ 1,600
Meal Plan for IEP Students
FALL 1, 2016 | August 18 – October 19
19 meals / week
$ 1,100
10 meals / week
$ 800
FALL 2, 2016 | October 20 – December 31
19 meals / week
$ 1,100
10 meals / week
$ 800
SPRING 1, 2017 | January 4 – March 5
19 meals / week
$ 1,100
10 meals / week
$ 800
SPRING 2, 2017 | March 15 – May 16
19 meals / week
$ 1,100
10 meals / week
$ 800
Important Inforrmation
Meals offered are Monday – Friday: Breakfast, Lunch and Dinner and Saturday and Sunday: Brunch and Dinner unless otherwise noted. Saturday and Sunday meals are ONLY offered at the dormitories for residents only.

Meal plans may be cancelled or altered, with the remaining amount refunded, by Sept. 10 for Fall and January 20 for Spring.

Refunds are not given for unused meals and balances are not forwarded to subsequent meal plan periods.

Meals will be provided at the North American University Campus. However, breakfast and dinner is also served at the dormitories to residents.

Meal plans may be adjusted for a higher amount of meals. However, meal plan levels may not be lowered outside of the adjustment period. Only one adjustment is allowed per session. All changes must be submitted in writing.

Cancellation of meal plans is not allowed outside of the cancellation period aforementioned unless a student has officially withdrawn from school. They will be awarded the remaining value of their meal plan and charged a $50 cancellation fee. If a student withdraws before the beginning of their session, they are entitled to a full refund.

Students are prohibited from sharing their IDs with other students.
Please note that meal plans are not active from December 31 – January 3
*Prices and dates are subject to change.