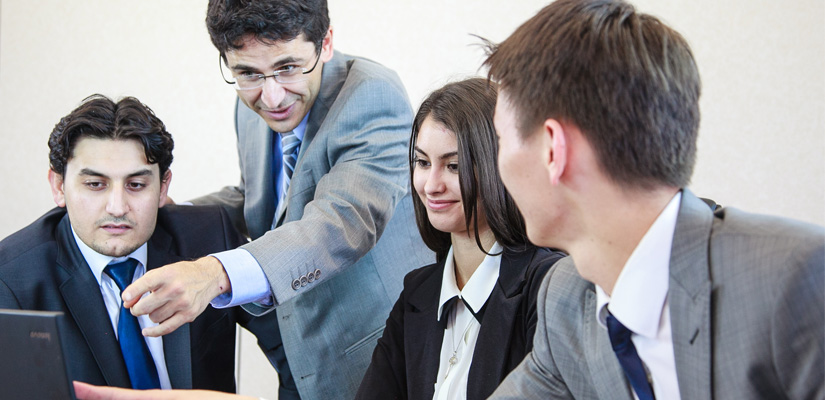 Graduate Studies
Students who wish to pursue graduate study directed toward developing leadership knowledge and skills may pursue a master's degree in educational leadership.


Master of Business Administration

The Online MBA at the North American University approaches business with humanity in mind. The program focuses on real-world skills and business fundamentals for business professionals by offering Data Analytics and Leadership and Change Management concentrations.

Master of Science in Computer Science

The Master of Science in Computer Science program offers students with the professional development that provides them with advance knowledge in four areas of specialization, including software engineering, data analytics, networking, and cyber security.

Read More
Master of Education in Curriculum and Instruction

The M.Ed in Curriculum and Instruction program gives students a sound foundational knowledge of human development, learning environments, and cognitive and behavioral models. This program is meant to equip students with skills to develop curricula and design/deliver superior instruction using technology with focus in Mathematics Education, Science Education and Educational Technology.

Master of Education in Educational Leadership

The 36 credit hour Master of Education (M.Ed.) degree program in Educational Leadership is designed to meet the needs of students seeking to develop the knowledge, skills, and dispositions essential to becoming effective educational leaders. The focus of program is to prepare leaders in public school leadership and administration is designed to meet the needs of students seeking to develop the knowledge, skills, and dispositions essential to becoming elective educational leaders.Masters of Education in Educational Leadership program is to prepare and educate exemplary practitioners; as school leaders who are capable of communicating and collaborating with school community members; as ethical leaders by adhering to legal principles to enrich the school's climate, culture, and diverse learning infrastructure; as instructional leaders who promote the success of all students by designing curriculum, supervising the instruction,and facilitating the integration of technology; and as school leaders who possess administrative skills in managing, personnel, finance, and facilities.

Admission Requirements
To complete your application packet, please make sure you submitted the following items:
Create your NAU Account
Submit a completed application form through your NAU Account
A nonrefundable application fee ($60) (check or money order should be made out to North American University)
Official Transcripts of all academic work completed at the bachelor level or beyond (An official sealed copy of the transcripts indicating the completion of a bachelor's (four year) degree (may be sent directly from the undergraduate college or university)
Letter of Intent (Statement of Purpose)
Curriculum Vitae
Two letters of recommendation
A minimum GPA of 2.5 for full admission or conditional acceptance*
A minimum GRE general combined test score of 290 for full admission or conditional acceptance
For international students: Proof of English Language proficiency:
TOEFL (paper-550, CBT-213, IBT-79). IELTS 6.0. Students with a TOEFL score (paper-500, CBT-173, IBT-61) or IELTS 5.5 are conditionally enrolled**
* After completing 9 graduate hours, a conditional student must have an overall graduate grade point average (GPA) of 3.00 or higher.  Failure to achieve the minimum 3.0 GPA after completing 9 graduate hours will result in suspension from the program.
**The students are required to take remedial reading and writing courses.
Degree Requirements
For an M.Ed. degree in Educational Leadership, students are required to complete 36-semester credit hours of the graduate course work. It includes 3-semester credit hours of 160-clock hours internship. The program requires completion of following core and major courses:
3 Cr. EDUC5311 Human Growth and Development
3 Cr. EDUC5312 Curriculum and Instructional Design
3 Cr. EDUC5313 Statistical Procedures and Measurement in Education
3 Cr. EDUC5324 Integrating Technology into Education
3 Cr. EDUC5325 Research Methods in Education
3 Cr. EDUC5314 School Leadership
3 Cr. EDUC5315 Instructional Leadership
3 Cr. EDUC5316 Human Resource Management
3 Cr. EDUC5319 School Finance and Campus Business Management
3 Cr. EDUC5320 Communication and Public Relations for School Administrators
3 Cr. EDUC5322/EDUC5323 Internship in Educational Leadership
3 Cr. EDUC5326 Law and Policy for School Leaders
Student Privacy Protection
The Family Educational Rights and Privacy Act (FERPA) protects the privacy of student educational records including financial information and prevents North American University from providing that information to any third parties. Access to student records is limited to students, parents of dependent students, and authorized school personnel. For more details about FERPA and privacy of student records, please see our student handbook, under the topic 4.3 Academic records and Transcripts.
Financial Information
Residents:
Tuition: $7,900.00 (Total for the whole program, 36 Credits)
International:
Tuition: $13,900 (Total for the whole program, 36 Credits)
Departmental Fee
Library Fee
Student Service Fee
Computer and Internet Fee
Late Registration Fee: $30
Late Add/Drop Fee: $30
Withdrawal Fee: $30
Late Payment Fee: $25
Application Fee (Resident): $ 60
Application Fee (International): $250
North American University online courses cost the same as traditional face-to-face classes, and students in designated online courses receive the same benefits as all NAU students through their tuition and fee payments. There are no any additional charges or fees for online courses, or verifying student identity.
In addition to the cost above, students need to think about the cost of books, supplies, residential room, and meal service.You can check the room and meal plans from undergraduate section of the school catalog on the website. International Students are required to be registered in at least 9 credits per semester and 6 credits of it must be face to face courses.