M.Ed. in Educational Leadership Online
Flexible, affordable and quality education offering programs leading to Texas Principal Certification with a possibility to graduate as early as in 18 months
Your degree can open the door to leadership positions such as: Principal, Assistant principal, District administrator, etc. Graduates with a master's degree in educational leadership qualify for teaching and administrative positions at the elementary, middle, and secondary private and public schools as well as postsecondary school levels. Graduates have the opportunity of entering a vast education-related work force including teaching and administrative work in public, private, charter, and governmental institutions.

Mission
Masters of Education in Educational Leadership program is to prepare and educate exemplary practitioners; as school leaders who are capable of communicating and collaborating with school community members; as ethical leaders by adhering to legal principles to enrich the school's climate, culture, and diverse learning infrastructure; as instructional leaders who promote the success of all students by designing curriculum, supervising the instruction, and facilitating the integration of technology; and as school leaders who possess administrative skills in managing personnel, nuance, and facilities.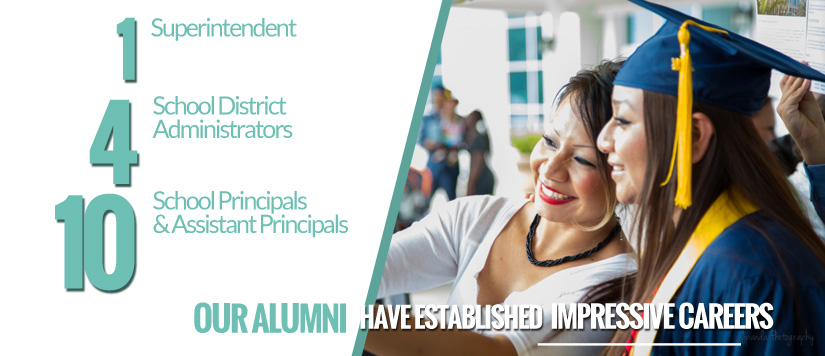 Admission Requirements
To complete your application packet, please make sure you submit the following items:
One year of teaching experience
Official Transcripts of all academic work completed at the bachelor level or beyond (an official sealed copy of the transcript(s) indicating the completion of a Bachelor's degree, may also be received electronically from the issuing institution).
A Copy of your complete course evaluation (if undergraduate degree was earned outside the US a course by course analysis is required of the undergraduate transcript by an evaluation company). The course evaluation must be completed by an approved company such as SDR or SpanTran and sent electronically to admissions@na.edu. Please see attached sheet for additional information.
Copy of your current ID (may be scanned and emailed to admissions@na.edu or uploaded through MyNAU under documents).
Letter of Intent
Curriculum Vitae
Application fee* of $60 : can be paid online at the fees and deposits page (* A full refund will be made to any student who cancels the enrollment within three days (excluding weekends and legal holidays) after an enrollment agreement is signed. If a student cancels the enrollment more than three class days after signing an enrollment agreement but prior to attending any class, the student will get a full refund minus the application fee and/or enrollment confirmation fee.)
2 Letters of Recommendation
English Proficiency must be met if undergraduate degree was received outside the U.S. from a non-English speaking country**

Option 1: 2 Years teaching experience in English – verification of work history to be sent directly from the Human Resources department.
Option 2: TOEFL ( IBT 79) or equivalent nationally recognized standardized tests(If you cannot prove you are English Proficient from these two common ways, you may still have options. Talk to your admission counselor at 832-362-0129.)
Degree Requirements
For an M.Ed. degree in Educational Leadership, students are required to complete 36-semester credit hours of the graduate course work. It includes 3-semester credit hours of 135-clock hours internship. The program requires completion of following core and major courses:

CORE COURSES
EDUC 5311 Human Growth & Development
EDUC 5312  Curriculum & Instructional Design
EDUC 5313 Statistical Procedures & Measurement
EDUC 5324 Integrating Technology Into Education
EDUC 5325 Research Methods In Education
MAJOR COURSES
EDUC 5314 School Leadership
EDUC 5315 Instructional Leadership
EDUC 5316 Human Resource Management
EDUC 5319 School Finance & Campus Business Management
EDUC 5320 Communication & Public Relations For School Administrators
EDUC 5322 Internship In Educational Leadership
EDUC 5326 Law And Policy for School Leaders
Course Sequences
M.Ed. in Educational Leadership Program Course Sequence

First Semester
Cr
Second Semester
Cr
First Year
EDUC 5311 Human Growth and Development
3
EDUC 5312 Curriculum and Instructional Design
3
EDUC 5313 Statistical Procedures & Measurement
3
EDUC 5314 School Leadership
3
EDUC 5324 Integrating Technology into Education
3
EDUC 5325 Research Methods in Education
3
Total Credit Hours
9
Total Credit Hours
9
Second Year
EDUC 5315 Instructional Leadership
3
EDUC 5320 Communication and Public Relations for School Administrators
3
EDUC 5316 Human Resource Management
3
EDUC 5326 Law and Policy for School Leaders
3
EDUC 5319 School Finance and Campus Business Management
3
EDUC 5322 Internship in Educational Leadership
3
Total Credit Hours
9
Total Credit Hours
9
Accesibility
100% Online
Flexible, Affordable & Quality Education
Resident Total Tuition
$7,900
$219 per credit hr | *$250 per semester fee
International Total Tuition
$13,900
$386.11 per credit hr
Educational Leadership Faculty
All faculty hold terminal degrees in their fields and have a vast body of professional experience as campus and/or district leadership.
Career Opportunities
The focus of program is to prepare leaders in public school leadership and administration.Here are some of the jobs in education that will allow you to make a difference and have a real impact on the quality of education:
Preschool and Childcare Center/Program Administrators
Elementary and Secondary School Administrators
Postsecondary education Administrators
Education Administrators
Superintendent
School Principal
Department Director
Curriculum Director
Department chair
Key Skills and abilities: leadership, management, community building, and vision.