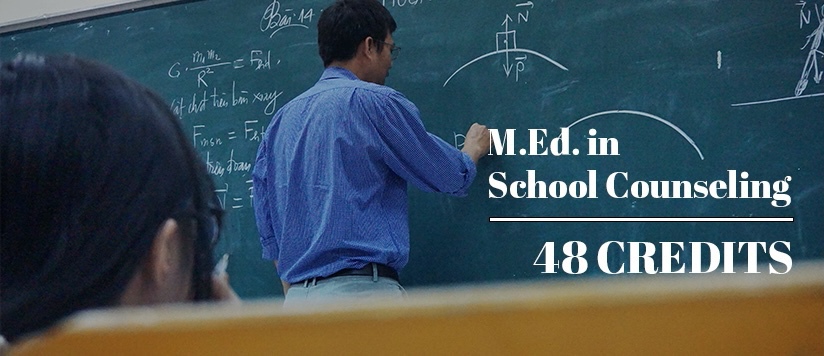 MASTER OF EDUCATION IN SCHOOL COUNSELING WITH 48 CREDITS GRADUATION REQUIREMENT
The Master of Education (M.Ed.) in School Counseling program is designed to develop counseling skills and school counselor preparation for individuals who are seeking a graduate degree in school counseling. The program is a non-thesis, 48 hours including a practicum for graduation. Coursework features individual and group counseling theories to help, support and advocate for all students, applying research for data-driven decisions, research methods in support of school counseling programs, legal issues and ethical principles, and developing the design implementation, management, and evaluation of a comprehensive developmental school counseling program. The program prepares students to become a skilled school counselor for K-12 schools, helping students in group and individual counseling.
Program Goals
The Master of Education (M.Ed.) in School Counseling is designed to prepare candidates with the
knowledge, skills, and mindset necessary to design and implement a comprehensive and developmental
school counseling program.
Program Student Learning Outcomes (SLO)
The Master of Education (M.Ed.) in counseling program enables students to:
Appreciate the need for observing legal and ethical practices in counseling
Provide students with knowledge of learning theories and human development across lifespan.
Recognize the relationship between human growth and development and options for counseling interventions
Use individual and group counseling techniques to facilitate treatment planning and implementation for diverse student populations
Research career development options and create a personal career plan.
Understand the various roles of the school counselor, including standards and behaviors as defined in Texas Education Agency's Comprehensive and Developmental Guidance and Counseling Program.
Students seeking a Master of Education (M.Ed.) in School Counseling degree with 48 credits graduation plan are required to complete 48 credit hours of coursework. All financial obligations to the university must be satisfied before the university can issue a diploma or an official transcript to a student. The program requires the completion of core and major courses.
Core Courses
 Courses (15 credits)
Credits
EDUC 5311
Human Growth & Development
3
EDUC 5312
Curriculum & Instructional Design
3
EDUC 5313
Statistical Procedures & Measurement
3
EDUC 5324
Integrating Technology into Education
3
EDUC 5325
Research Methods in Education
3
| Major Courses |  Courses (33 credits) | Credits |
| --- | --- | --- |
| COUN 5311 | Foundation of School Counseling | 3 |
| COUN 5312 | Individual Counseling Theories and Techniques | 3 |
| COUN 5313 | Counseling Children and Adolescents | 3 |
| COUN 5314 | Multicultural Counseling | 3 |
| COUN 5315 | Developmental Guidance and Counseling | 3 |
| COUN 5316 | Career development and Counseling | 3 |
| COUN 5317 | Practicum for School Counseling ** | 3 |
| COUN 5318 | Group and Family Counseling Theories and Techniques | 3 |
| COUN 5319 | Mental Health & Community Counseling | 3 |
| COUN 5320 | Counseling for Special Population | 3 |
| COUN 5327 | Ethical, Legal, and Professional Issues in Education | 3 |
Notes:
1. Students, who preferred to complete their master with thesis, need to take two extra courses EDUC 5398-Thesis Research and EDUC 5399-Thesis Writing
2. Students with thesis option need to take EDUC 5325 instead of COUN 5317.
THESIS or NON-THESIS OPTION
The program offers options to its students to complete the program with Thesis or Non-Thesis option
THESIS OPTION
For students who choose a thesis option they are required to complete 42 credit hours of course work plus an additional 6 credit-hours of thesis in their concentration area (EDUC 5398 & EDUC 5399). Those who choose thesis option are exempt to take EDUC 5311 and EDUC 5312.
Thesis proposal must describe the research and it must be approved by the faculty advisory committee beforehand.
A successful thesis defense must be presented to the faculty advisory committee to complete the course.
Students will work with their academic advisor to develop the thesis proposal and plan of study. Once this is completed and prior to finishing the first thesis course (EDUC 5398), the student must select at least three professors from the NAU faculty to serve as members of their faculty advisory committee. This committee will guide the student through the thesis process.
The thesis will be defended orally by the student prior to completion of the second thesis course. The faculty advisory committee must accept that all thesis requirements have been successfully completed.
Grading system: Fail (F), Pass (P)
NON-THESIS OPTION
Students selecting the non-thesis option must complete 48 credit hours of course work.
Course Sequence
Fall15 weeksCOUN 5317- Practicum for School Counseling
Semester
Duration
Course 1
Course 2
Fall
15 weeks
COUN 5317- Practicum for School Counseling
Fall 1
8 weeks
EDUC 5311-Human Growth and Development
EDUC 5313- Statistical Procedures and Measurement
Fall 2
8 weeks
EDUC 5324 – Integrating Technology into Education
COUN 5311-Foundation of School Counselling
Spring
15 weeks
COUN 5317- Practicum for School Counseling
Spring 1
8 weeks
COUN 5312-Individual Counseling Theories and Techniques
EDUC 5325- Research Methods in Education (or EDUC 5328)
Spring 2
8 weeks
COUN 5313- Counseling Children and Adolescents
EDUC 5312- Curriculum and Instructional Design
Summer 1
6 weeks
COUN 5314-Multicultural Counseling
Summer 2
6 weeks
COUN 5315- Developmental Guidance and Counseling
COUN 5316- Career Development and Counseling
Summer 3
12 weeks
EDUC 5327 -Ethical, Legal, and Professional Issues in Education or
COUN 5327
Fall 1
8 weeks
COUN 5318-Group and Family
Counseling Theories and Techniques
COUN 5319-Mental Health & Community Counseling
Fall 2
8 weeks
COUN 5320-Counseling for Special Population
Admission Requirements
Admission Requirements for online School Counseling Master Program:
A completed application form
An application fee
Letter of intent (Statement of Purpose)
At least one year of classroom teaching experience
Curriculum Vitae
Two letters of recommendation
Copy of current ID
Official Transcripts of all academic work completed at the bachelor level or beyond
Minimum 2.5 GPA*
For international students: Proof of English Language proficiency**
*Students whose GPA is less than 2.5 must have an overall graduate grade point average (GPA) of 3.00 or higher after completing 9 graduate hours. Failure to achieve the minimum 3.0 GPA after completing 9 graduate hours will result in suspension from the program.
**English Proficiency must be met if undergraduate degree was received outside the U.S. from a non-English speaking country.
Option 1: 2 years of teaching experience in an English speaking country
Option 2: TOEFL (IBT 79) or equivalent nationally recognized standardized tests