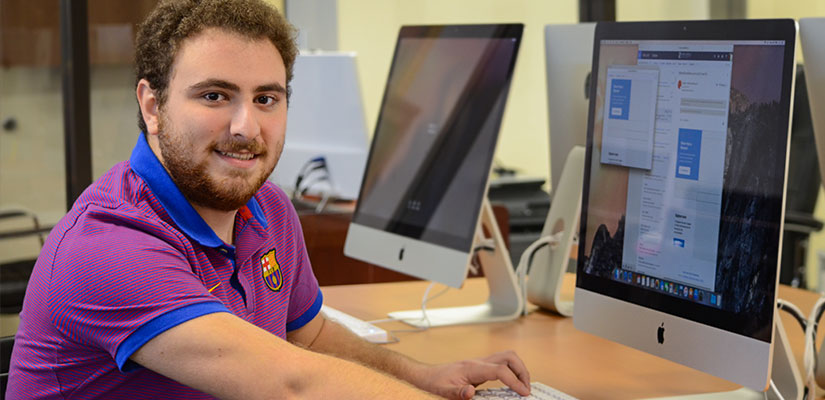 Computer Science Department
Computers touch almost all aspects of our daily lives. They are the basis of many of the endeavors in our society today and continue to advance various areas as well as opening new fields. These endeavors include the entertainment industry, engineering, government, medicine, business, manufacturing, science, space exploration and communication.
All of these fields would not be able to develop and advance their respective areas without the use of computers and the methods of Computer Science. It spans from its theoretical and algorithmic foundations to cutting-edge developments in software engineering, networking, and other exciting areas. Its comprehensive foundation allows graduates to adapt to new technologies and new ideas.
The mission of the Department of Computer Science is to achieve national prominence by providing outstanding education to our undergraduate students for their productive careers in industry, academia, and government. We strive for excellence in teaching and service, covering the fundamental as well as applied aspects of computer science. We help our students develop the skills to solve the technological problems of modern society through collaborative and multidisciplinary activities.
The Department of Computer Science believes that computer science is a rapidly evolving discipline directly or indirectly affecting many other disciplines such as science and engineering, education, business, etc. It is so important that we contribute to computer science in a way that our faculty and students can devote themselves to take the maximal advantage of modern computer science to solve a wide range of scientific, technological and social problems. The department continues promoting innovative education programs in the core computer science as well as multidisciplinary application areas. Our focus areas include Software Engineering and Computer Networking.
Degree Requirements
For a B.S. degree in Computer Science, students must complete 120 semester credit hours: 36
credits of general education, 51 credits of computer science core, 18 credits of concentration and
15 credits of unrestricted elective courses.
COMP 1314 Computer Literacy and Applications
COMP 1411 Introduction to CS I
COMP 1412 Introduction to CS II
COMP 2313 Data Structures
COMP 2415 Systems Programming
COMP 2316 Computer Organization
COMP 3317 Algorithms
COMP 3318 Operating Systems
COMP 3320 Programming Languages
COMP 3321 Database Systems
COMP 3322 Software Engineering
COMP 3324 Computer Networks
MATH 1313 Pre-Calculus
MATH 1312 Statistics
MATH 2314 Calculus I
MATH 2317 Discrete Mathematics
Each student has an opportunity to specialize in an area of concentration. The additional coursework required for each concentration area is outlined as follows:
COMP 3326 Web Application Development
COMP 4339 Software Analysis and Design
COMP 4342 Advanced Web Application Development
COMP 4353 Data Mining
COMP 4356 Software Project Management
COMP 4393 Senior Design Project
COMP 3325 Computer & Network Security
COMP 4331 Cloud Computing
COMP 4351 Network Administration
COMP 4352 Internetworking Technology
COMP 4358 Wireless Networking
COMP 4393 Senior Design Project
Minor Requirements
Minor in Computer Science can be earned in conjunction with any major in the North American University. A total of 18 credit hours is required. The following courses are required:
COMP 1411 Introduction to CS I
COMP 1412 Introduction to CS II
COMP 2313 Data Structures
And 9 additional credit hours in COMP at the 3000 level or above.
Student Clubs
The Computer Science Department's Association for Computing Machinery Club (ACM)  is a student organization that is dedicated to providing NAU students with supplementary computer science knowledge and expand their professional/personal networks. While the club is focused towards serving students in the computer science field, all students interested in computing are welcome to join.
For a complete list of computer science clubs please contact the Student Life Coordinator at studentlife@na.edu

ACM (Association for Computing Machinery), is the world's largest educational and scientific computing society, it delivers resources that advance computing as a science and a profession. ACM Organization was established in 1947. NAU ACM is North American University ACM student chapter which is a non-profit organization, and managed by NAU Computer Science students. NAU ACM supports and encourages students to attend competitions, apply for internships, do extra projects.
The WebDev Club is a student-run, tutorial-style club dedicated to teaching interested students leading-edge web technologies, fundamental to advanced. No prior experience with web development is required to join the club, and you do not have to be a CS major. Club will include a 3D Gaming sessions. Ultimately, the club intends to make each member a full stack developer.
The goal of the Mobile Development Club is intend to help our students gain mobile programming experience for iOS and Android based devices. No previous programming experience is required.
The club will help to start any application projects and the ability to upload to any appstore.
The robotics club is a place where students will make robots together and discuss about them. These robots may be quite simple or quite complex. They can be manually or autonomously operated.The club provides workspace, tools, intellectually stimulating conditions and people to help you out if you have any problems.
No previous experience is required.
Course Descriptions