A period of time that generally begins on the day after a borrower graduates, leaves school, or drops below half-time enrollment and usually ends six to nine months later. A borrower is not required to make payments during the grace period. Grace periods occur for:
subsidized and unsubsidized loans made under the Direct Loan and FFEL programs (six-month grace period); and
loans made under the Perkins loan program (generally nine-month grace period).
Frequently Asked Questions
An FSA ID consists of a username (or verified e-mail address) and password which gives you access to Federal Student Aid's online systems and can serve as your legal signature.
To create an FSA ID?, visit this link
An FSA ID is verified:
If you have a PIN and link it when you create your FSA ID, your Social Security Administration (SSA) confirmation is applied to your FSA ID and you'll be able to log in to StudentLoans.gov immediately.
If you don't have a PIN or don't link it when you create your FSA ID, your information will be confirmed with SSA. This takes one to three days, and you'll receive an e-mail (if you provide one) when this is complete.
Once SSA confirms your information, you'll be able to use your FSA ID to log in to StudentLoans.gov.
If you don't have an FSA ID you won't be able to log in to StudentLoans.gov, or other Federal Student Aid sites.
Financial Aid Eligibility Requirements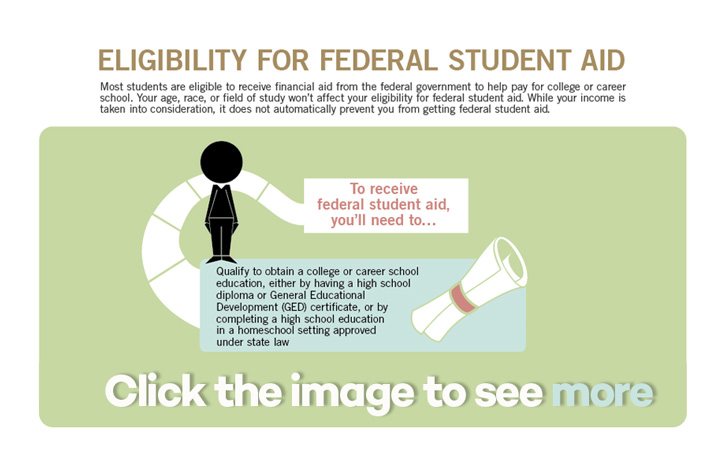 IMAGE OBTAINED FROM: https://studentaid.ed.gov/sa/sites/default/files/FSA-Eligibility-11.16.12.png
General eligibility requirements include that you have financial need, are a U.S. citizen or eligible noncitizen, be enrolled in an eligible degree or certificate program at your college or career school, and more. Make sure you're familiar with the basic eligibility criteria, and ask a college financial aid office if you have any questions about whether you qualify. There is no age limit when it comes to receiving federal student aid.
Students with a Parent Who Was Killed in Iraq or Afghanistan
If your parent died as a result of military service in Iraq or Afghanistan after the events of 9/11, you might be eligible for additional Federal Pell Grant funding or for an Iraq and Afghanistan Service Grant.
Non-U.S. Citizens
Generally, if you have a "green card" (in other words, if you are a permanent resident alien), you will be considered an "eligible noncitizen" and will be able to get federal student aid if you meet the other basic eligibility criteria. Full details of which immigration statuses make you an eligible noncitizen are at the Non-U.S. Citizen page
Students with Criminal Convictions
If you are incarcerated, have a conviction for a drug offense, or are subject to an involuntary civil commitment after completing a period of incarceration for a sexual offense, your eligibility for federal student aid may be limited.
Students with Intellectual Disabilities
Students with intellectual disabilities may receive funding from the Pell Grant, Federal Supplemental Educational Opportunity Grant, and Federal Work-Study programs in certain circumstances.
Staying Eligible
Once you're in college, make sure you stay eligible for federal student aid by paying attention to a few things, including keeping on track toward graduation. And remember to fill out your FAFSA every year.
Regaining Eligibility
You might lose federal student aid eligibility in a number of ways. Some of the most common are that you
are in default on a federal student loan,
don't maintain satisfactory academic progress in college, or
are convicted of a drug offense
Videos and Other Helpful Resources