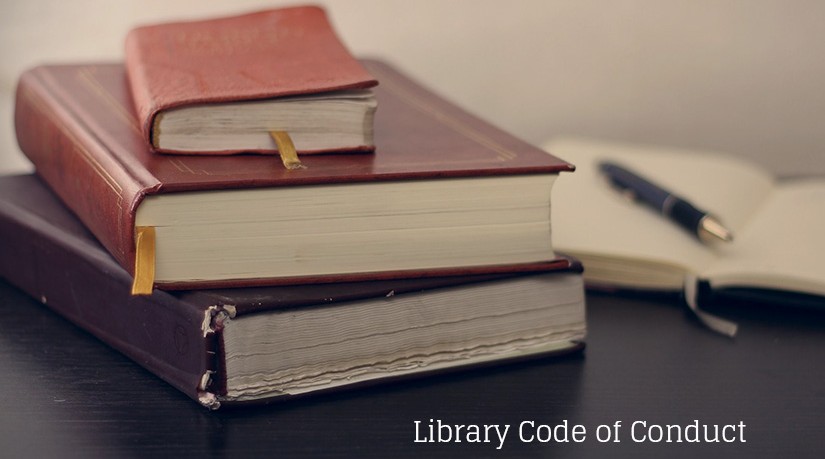 NAU Library Code of Conduct and Policies
In order to maintain a safe and welcoming environment for reading, learning and other library activities, the North American University Library requires all patrons to comply with the following Code of Conduct and Policies:
Patrons may not engage in conduct that disrupts or interferes with the normal operations of the Library, its staff, or its use by other visitors. Such conduct may include, but is not limited to:

Harassing or threatening behavior towards other patrons or library staff.
Using obscene or abusive language or gestures.
Making unreasonable noise, including loud talking on a cell phone or otherwise. Library users should be considerate of others by keeping noise levels low enough not to disrupt study and research of others.
Engaging in sexual conduct or lewd behavior.
Possessing a knife, gun, or any other weapon in violation of NAU rules and regulations.
Smoking, including electronic cigarettes and chewing tobacco are prohibited.

In order to provide an optimum environment for using the Library, users must conduct cell phone, Facetime and Skype conversations outside the library and turn off ringers while in the Library.
Headphones must be used when listening to audio devices. This includes phones, tablets, workstations and mp3 players. The library does not have headphones available for use.
In order to keep the library clean and pest-free, food is not allowed anywhere in the library. Drinks are allowed in re-usable containers with a secure lid, such as a sport bottle or thermos. Fast food drink containers are not permitted.
Library patrons are responsible for their personal property at all times, and should never leave personal property unattended. The library is not responsible for any loss or damage to personal property. Library staff will not hold or watch items for patrons.
Theft, vandalism, graffiti, and other intentional tampering with or damage to library property, collections, and exhibits are criminal activities and NAU security will be contacted.
Library materials should be checked out prior to leaving the building.
Reserve materials must be used in the library and cannot be taken out. Reserve materials are also subject to time limits for usage.
Computers are not to be used for Facetime and or Skype conversations.
Library patrons are expected to comply with NAU's Information Technology Resources Policy regarding use of library computer workstations.
Library users must clean up after themselves. Discard trash in trashcans. Clean up spills whenever possible. Report them to the nearest service desk.
Library patrons must respect a staff member's request to relinquish a computer or other equipment for use by another patron.
Study rooms are for the use of the NAU community. Be respectful of others and remember the rooms are not sound-proof. Certain rooms and other library spaces may have additional restrictions.
Clothing and shoes must be worn in the library.
Parents/guardians are responsible for their children's safety and behavior. Children under 12 should be supervised at all times. Library staff cannot oversee unescorted or unsupervised children, nor be responsible for their safety.
Service animals actively assisting persons with disabilities are allowed in the library. Otherwise, animals are not allowed in the library.
Filming and photography is permitted if it represents an academic or University purpose.
Entering restricted areas of the library after closing is prohibited and is considered trespassing.
Library users are expected to comply with library policies that relate to fair use and copyright law compliance and to license agreements governing use of certain library resources as outlined in Title 17 of the U.S. Copyright Law and U.S. Copyright Office guidelines on Fair Use.
Questions about any of these policies can be directed to the librarian. The NAU Library reserves the right to add, modify, or delete any or all of these policies, with or without prior notice.